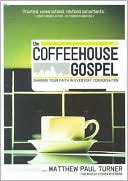 Matthew Paul Turner has
written a few books
. I've only read a few of them so far and plan to get a few more. The first one I read was "The Coffeehouse Gospel: Sharing Your Faith in Everyday Conversation." Right up front I'll say that I liked it a lot.
Push aside the subject matter for a moment. Turner's writing style alone is enough to like this book (or really just about any book of his). He has a way of writing that makes him instantly relatable (is that a real word). And that is an even bigger strength when tackling a subject like everyday evangelism.
The title of the book ties in because, by his own accounts, Turner has worked in a few coffeehouses and can be found lurking in them eavesdropping on your conversations. I mean, writing in various coffeehouses around town....
Seriously, the idea is that the corner Starbucks or local coffee shop is a cross section of life and an intersection of people. It is as good a place as any to meet people, have conversations with them, or just enjoy company. Because of these things, it is a place where stories are shared. And that is a key.
Throughout the book, Turner talks about the good and the bad ways that evangelism happens today. Mixed in with that are snippets of conversations and interviews the author has had with various people in his life. The point of each of these interludes is to try and show how you can bring your faith in the conversation without swinging the God hammer in a two-handed overhead smash.
The central idea behind everyday evangelism is knowing and telling YOUR story. Not just your testimony or you "the day I was saved" tale. That is a part, a very important part but still just a part, of your whole story. And it is your whole story that is the most important.
I'm not doing Turner's writing justice in how I'm describing this, so I'll let him say it himself:
A large part of sharing your faith through everyday conversation is being able to relate to others in everyday circumstances... People want to relate to you. People want nothing more than for you to relate to them. In most cases, all human beings desire to relate to others. The common thread that ties the two together doesn't have to be thick, unbreakable, or long, it just has to be there and available.
Knowing and being able to tell your own story makes that common thread available to others.
Towards the goal of equiping us to use our stories to connect with people, Turner includes a couple of sections with guiding questions. By following along with these questions and topics, you can begin to outline and even write out your story.
And if you've never really looked at your whole story, written or not, doing this exercise can be very eye opening. The more I thought about where God was in my story, my life, the more I came to appreciate how He could use me to speak to and reach other people.
Of course, in sharing your story, you may end up sharing your faith and what you believe. Turner points out that we do not have to be theologians in order to do that. We do need some preparation, just like with our stories. So the author provides a chapter (chapter 7 to be precise) called 'Knowing the Basics.' In this chapter, Turner breaks down the Apostle's Creed into 7 key pieces and describes the basic theology around them. It is a good primer on Christian beliefs and a pretty succinct way of describing it.
I highly recommend "The Coffeehouse Gospel" if you at all feel the tug to share your faith with the people around you. Actually, I recommend it even if you don't feel that pull. Reading this book can definitely help you understand what authenticity looks like and why it is so important.