I'm in the process of finishing reading and reviewing a couple of books right now. I expect to publish the reviews for them in the next few days.
Here are some of the upcoming reviews you can look for:
Christianity in Crisis: 21st Century
by Hank Hanegraaff. This book delves deep in to the current state of what Hanegraaff identifies as false teaching that is leading many people astray. It mixes research and citation of these teachers and their doctrines with Hanegraaff's counterpoint views on the Gospel.
Crazy Love: Overwhelmed by a Relentless God
by Francis Chan. Chan digs into what might be a sensitive subject for many American Christians these days. His take on "Lukewarm Christians" and what God is really calling us to is intriguing and powerful.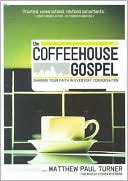 The Coffeehouse Gospel : Sharing Your Faith in Everyday Conversation
by Matthew Paul Turner. In this book, Turner relates several experiences that he and friends have had in sharing faith with others. The book has interesting discussions about ways that work, and some that don't work, when the opportunities come up to share faith.
I hope to see you back when the reviews are published. Keep watching....